Features
You don't have to be an email marketing expert to deliver great emails to your contacts.You just need the right tools.Campayn packs all the essentials you need into a simple drag-and-drop platform that's so easy you can setup and send your first email in a matter of minutes.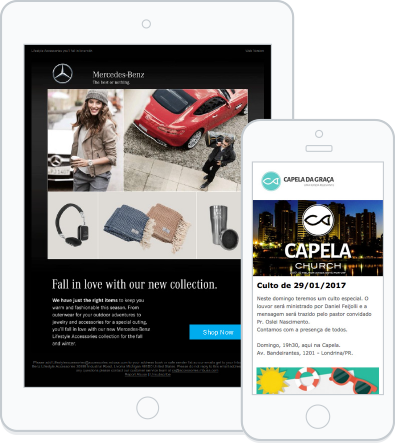 Great emails start with great design
Email Design
Set the perfect backdrop for your email message with a beautiful design that reflects your brand. You can use one of our templates, or design your own. There's no coding necessary with our easy-to-use editor. Just drag and drop.
Get Started

Upload custom HTML
If you're HTML-savvy and want an email design that's truly unique, Campayn lets you break the mold by uploading your own custom HTML.

Add to calendar buttons
Help customers keep track of your upcoming business events with our easy-to-embed calendar buttons that automatically add events to their online calendar.
Learn more about adding calendar events >
Add google maps images
Make sure your customers know exactly where to find your store or upcoming event by embedding hyperlinked Google Maps images that make it easy to get driving directions.
Learn more about adding maps to emails >

Attach files
Share ebooks, digital brochures, contracts and more by embedding an easy-to-format link that lets customers download files to their computer or smart device.